Dowel Pins
Precision Ground Dowel Pins are used in a variety of applications and are generally made to fractional diameters and lengths.
Set Screws
A set screw is generally used to secure one object within another.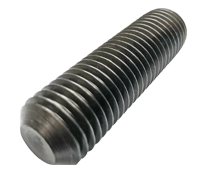 Custom Machined Products
Precision products for nearly any application.
The Evolution of a Standard began in 1967 when Radax Industries mastered the fundamentals of manufacturing and shipped its first socket set screws. Today, serving both foreign and domestic markets, Radax is setting industry standards for threaded and non-threaded fasteners. With its mark set on excellence, Radax is committed to customer service with the same devotion it insists on in manufacturing. Its more than a standard...its unique.
Precision Parts for the Firearms Industry
Detailed machining specifically for your firearm needs.
Learn More
Company Features
Established
Manufacturing since 1967, Radax has perfected the standard for threaded and non-threaded fasteners.
ISO 9001:2015 Certified
Certified to consistently provide products and services that meet customer and regulatory requirements.

Lights-out Manufacturing
Factories that run lights out are fully automated and require no human presence on-site.
Cost-Saving Manufacturing
Radax's expertise and innovative standards produce overall cost-saving processes.